Fiords are U-shaped valleys that have been carved by glaciers hundreds of years ago and backfilled by the ocean. In New Zealand, the West Coast Fiordlands have a rainforest climate and receive large amounts are rain every year. We were lucky enough to spend three days exploring the area.
Doubtful Sound:
Since Doubtful Sound is a far journey, we decided to do an overnight cruise in the fiord. After driving to the quaint town of Manapouri, we boarded a ferry which carried us across Lake Manapouri for one hour. Next we hopped on a shuttle bus which transported us to the Fiordland Navigator ship, another hour ride. Once on the ship, we settled in to our cute little room and found a good viewpoint on the deck to watch the beautiful mountains descend out of the clouds. Later, the ship anchored and we were able to kayak in closer to shore. There was some very light mist and fog but it made the fiord seem very mysterious. Along the way we saw numerous fur seals, fiordland crusted penguins, dolphins, and even a humpback whale! The whale was incredible. We watched eagerly as it jumped out of the water twice and splashed its tail. During our stay, the crew served us a snack and two substantial meals that were all very tasty. Near the end of our trip the captain completely turned off the engines and we admired the "sounds of silence". It was a wonderful time and we were sad to leave.
Te Anau Glowworm Caves:
The glowworm caves were a short journey across Lake Te Anau. We entered the dark cave and walked over an underground waterfall. Then we climbed in to a tiny boat and were pulled via a rope through the cavern. As our eyes adjusted and we looked above us, we could see the small green lights emitted by the glow worms. They tended to group together appearing almost like mini constellations. We had to be completely silent and it was pitch black, so Kyle and I could only communicate through hand squeezes. It was a very unique experience.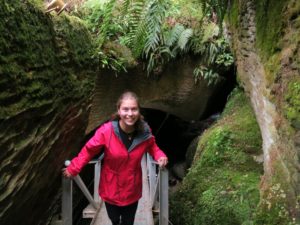 Milford Sound:
We had heard that Doubtful Sound and Milford Sound were very different and we're so glad we got to try them both. Milford Sound was only about 1/10 the size of Doubtful, but it's mountain faces were much steeper. Milford was also much busier. However, we saw more fur seals and crusted penguins with our binoculars.